Ballard
is one of Seattle's growing neighborhood. Ballard was once a city before being annexed by city of Seattle. There are many tourist attractions in Ballard area.
Some of the places in Ballard are very historical, such as Shilshole Bay, which was inhabited by the Shilshole Tribe who lived off the plentiful salmon and clams in the region (Wikipedia).
Historic Places in Ballard:
Ballard Avenue Historic District
Ballard Carnegie Library
Fire Station No. 18
Ballard Bridge
Hiram M. Chittenden Locks
Lake Washington Ship Canal
Unique Places in Ballard:
Hiram M Chittenden Locks
is also known as Ballard Locks. Ballard Locks maintain the water level of the fresh water Lake Washington and Lake Union, prevent the mixing of sea water from Puget Sound with the fresh water of the lakes, and moving boats from the water level of the lakes to the water level of Puget Sound, and vice versa. At Ballard Locks, they also have the
Salmon Ladder
, where you can see many salmon in specific season. (Source:
myballard.com
)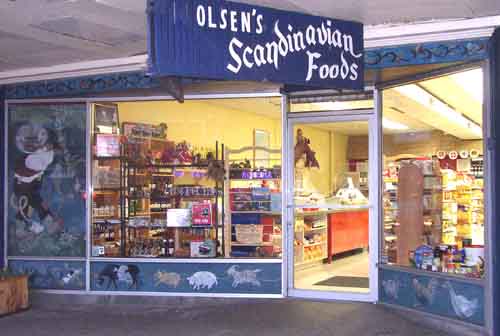 Olsen Scandinavian Foods
Members of the Norwegian, Swedish, Danish and Finnish communities are often found at Olsen's Scandinavian Foods. Besides providing you with many popular Scandinavian gifts and foods, Olsen's dedicates a large portion of their business to producing home made, traditional products. (Source:
inballard.com
)
Archie McPhee
One of Seattle's most bizarre and beloved shops. Here you can find everything from plastic toy soldiers and rubber chickens to boxing nuns. If you're having trouble finding a unique gadget gift, this is your one-stop shop. Look for the large dragon head on NW Market Street on the right as you head out toward Shilshole marina. You'll never forget a trip to Archie's. (Source:
inballard.com
)
Port Chatham Smoked Seafood
Port Chatham Smoked Seafood is a leading provider of high quality, wild smoked seafood from the Pacific Northwest and Alaska, since 1935. Portlock smoked seafood rated by the Food Network as "a Top 5 Seafood Sensation." You'll find King Salmon, Dungeness Crab, Copper River Sockeye, gift boxes, gift assortment baskets, and more. (Source:
inballard.com
and
myballard.com
)
Also check out
Ballard Sunday Farmer's Market
: It's every Sunday from 10am-3pm. Experience Ballard's Farmer's Market, selling their freshest produce and food, with wide varieties of art and crafts from local Ballard shops and eateries.
Special Thank YOU for
inballard.com
and
myballard.com
for providing information about Ballard's upcoming events, local shops, eateries, and news. We appreciate you!
PHOTO CREDITS: INBALLARD.COM AND MYBALLARD.COM